The Nisqually River Water Trail offers one paddling option that is located entirely on the waters of Puget Sound. From Luhr Beach, users can paddle up McAllister Creek, to the mouth of the Nisqually River, to Tolmie State Park or across to Anderson Island. Each route is an out-and-back opportunity, and have varying levels of difficulty. Paddling up McAllister Creek towards I-5 offers a relatively protected trip, while paddling towards Tolmie State Park, the mouth of the Nisqually River, or to Anderson Island requires navigating open waters and longer distances. In all cases, paddlers should research tides, currents and weather conditions, as well as familiarize themselves with areas that are off-limits to boats.
While enjoying the routes accessed at Luhr Beach, paddlers have the chance to view the Billy Frank Jr. Nisqually National Wildlife Refuge and the numerous birds that use the estuary, spot seals and sea lions, and even catch glimpses of Mount Rainier on a clear day.
Put-in and take-out at Luhr Beach, which is owned and operated by Washington Department of Fish and Wildlife (WDFW). A Discover Pass is required for each vehicle parked on site. The nearby Nisqually Reach Nature Center is open Wednesday, Saturday and Sunday from 12-4 for visitors, and offers citizen science opportunities and educational displays for those interested in learning more about the Nisqually Reach.
Luhr Beach has a paved boat launch and ample parking on site. During low tide events, this boat launch is not always accessible. Check the tides before you go!
The boat launch is heavily used year-round. Motor boats are allowed at this site, as are fishermen and waterfowl hunters. During the hunting season, people are allowed to hunt in areas across the Nisqually Delta.
Tidal Information
Unlike other sections of the Nisqually River Water Trail, this segment is influenced by tides, currents and weather conditions on Puget Sound. Be sure to check conditions before going out, and always practice skill-based judgement.
Hazards and Safety Considerations
*Note: this is not an exhaustive list! Water conditions can change rapidly and new hazards may appear at any time.
Before going on any body of water, be sure to take steps to increase personal responsibility, boat safety, the preparedness of your group and to understand water rescue principles. American Whitewater has a comprehensive list of actions that all river users should take to increase their safety. Make sure you and everyone in your boating party follows these guidelines!
The Nisqually Reach and Puget Sound has cold water, strong currents, poor water visibility and other natural hazards that are subject to change. These hazards can quickly turn lethal if users are unprepared.
The Nisqually Reach has numerous mudflats that are highly dangerous. Especially when exposed at low tide, these mudflats have quicksand-like features, and can quickly trap anyone who ventures on to them. Incoming tides can cause hypothermia and drowning.
Luhr Beach is located close to the Billy Frank Jr. Nisqually National Wildlife Refuge (BFJNNWR). Portions of BFJNNWR are closed to boats; more information is available on their website or by calling 360-753-9467.
During certain times of the year, waterfowl hunting is allowed on portions of BFJNNWR and within the greater Nisqually Reach. Be aware of hunting seasons by contacting Washington Department of Fish and Wildlife or by visiting the BFJNNWR website.
Map
Map
This map and guide is available for print from this website. Download a PDF version to print here. Please note that this map is only a rough guideline of known hazards, and water conditions can change at any time. You are responsible for your own safety.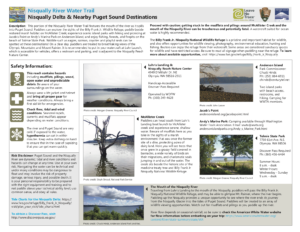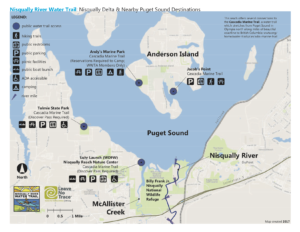 Leave No Trace
Leave No Trace is built on seven core principles that are used to communicate the best available minimum impact guidance for enjoying the outdoors responsibly:
Plan ahead and prepare
Travel and camp on durable surfaces
Dispose of waste properly
Leave what you find
Minimize campfire impacts
Respect wildlife
Be considerate of other visitors
Please help us keep the Nisqually Watershed beautiful and healthy by practicing these principles whenever you go outside!
Risk Disclaimer
Puget Sound and the Nisqually River are dynamic; tidal and river conditions and hazards can change at anytime. Use at your own risk. Navigating the water can be technical and under many conditions can be dangerous to float and may involve the risk of property damage, serious injury and possible death. It is your personal responsibility to be prepared with the right equipment and training and to not paddle above your technical ability level, use common sense, and obey all rules.